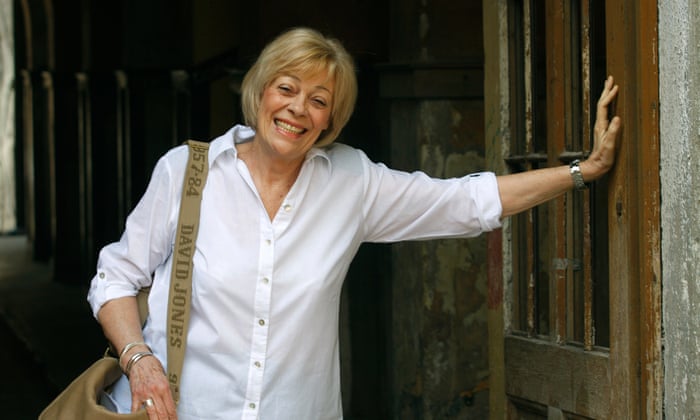 Daša Drndić, pictured in 2009.
Photograph credit: Mavric Pivk/DELO
(from the Guardian article here)
So sorry to hear about the untimely death of
Daša Drndić
. She was so full of life, fiercely committed, and in every photograph I've seen of her, she is smiling or laughing.
I'm reposting what I wrote after hearing her talk at the Edinburgh International Bookfest last year (2017).

*
Daša Drndić is a Croatian writer who has written several novels and her latest, Belladonna, has just been translated into English. When asked about the 'story' of her book, she says passionately 'My book doesn't have a story – I'm against this infatuation with a storyline!' Her writing she says is fragmented, to reflect the reality of our lives. While her book doesn't have 'a story' it is full of stories – 'little stories about little people, who really make history'. She has deliberately chosen a disruptive form – she is against linear construction. For it is not the form of a work, she says, but how something is written, that makes literature.

Passionate and refreshingly outspoken she says that literature should be offensive, should upset and provoke, should make people react. And while you cannot be a writer without empathy, she is not interested in reading love stories, for she is too troubled by what is happening in the world. She feels these 'ugly times' we are living in are reminiscent of the 1930s.

And while, she says, there has always been immigration, what we have now, the immigration from Africa and the Middle East, that's a boomerang, what we did in the past is coming back to us. The 'army of impoverished people' must not and cannot be ignored. People should react – within the law – she says, but she fears a new and bloody revolution is coming.

The extract she reads from Belladonna describes the shifting populations and territories in Europe – from Poland to Germany, from Germany to Netherlands, from Somalia to Netherlands, and shifting political ideologies too. Threaded into these movements and migrations is the question of complicity with regimes that oppress other people and the Nazi regime in particular. And she says it is so relevant right now, to remember what happened in Europe in the 30s and 40s, for if we really remember – not the 'ossified structure' of history but the real history through the painful, upsetting and desperate stories of actual people, we can hopefully stop it from happening again.

When someone in the audience asks her what she does read, since she doesn't read fiction she replies immediately, I didn't say I don't read fiction. (She had said that she didn't read love stories.) What do you think fiction is? she asks, and then answers her own question. 'What we call fiction is something that the writer has experienced or heard or has empathized with – it's not an invention. And' she says 'I don't believe in inspiration. Writing is solitary, it's tough, and you work at it.'

She also mentions that she has been to Albania and talked to writers who were imprisoned as political prisoners. When I ask her if she met Fatos Lubonja she responds immediately, yes, I did meet him, he wrote the book Second Sentence about his experiences in the Albanian gulag. And she says that she is going to write about that in her next book. Now that is something to look forward to!
Daša Drndić at Edinburgh Bookfest 2017
You can read an interview she gave with Paris